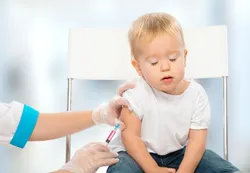 According to the Centers for Disease Control and Prevention (CDC), it is recommended that your child (age 6 months and older) receive a yearly
flu shot
. Ideally, a child's flu shot should be given as soon as the vaccine is available each year.
When it comes to a flu shot for your child, it is important to consider how many doses of the vaccine is needed for your child. Let's take a look:
2 Doses – If your child has never had a flu shot before, and he or she is under the age of 9, then two doses may be needed. Each dose will be given at least four weeks apart, which means it is important to begin the process as early as possible.
1 Dose – If your child has received the flu shot before, or your child is older than 9, one dose will be enough. However, timing is still just as important, as it takes up to two weeks after the vaccination for your child to be fully protected from the flu—begin as soon as the flu shot is available. As always, the earlier your child gets a flu shot each season, the better.
Call Spectrum Pediatric Group:
If you have any questions about flu shots or wonder which type of flu vaccine is best for your child, contact our office today. Also, please check with our office if your child:
Isn't feeling well
Recently had other vaccines
Has any medical conditions
Is allergic to eggs
Had a severe reaction to a previous flu vaccine
Keep in mind that yearly flu shots are also recommended for adults—especially those with close contact with young children. Contact our office today to learn more about kids flu shots and how you can protect your child and your family.
Want to learn more about Kids Flu Shots? Call our office at (770) 966-0778 today!